"How unpleasant to meet Mr. Eliot," wrote T. S. Eliot, but women did not find it unpleasant to meet him at all. In fact, they fell in love with him: secretaries and literary scholars alike, and the next couple of years will see a great deal of new information about T. S. Eliot's women.
He was a dour, gray-faced, elderly poet in poor health who nonetheless broke at least two (and perhaps four) hearts when he married his secretary, Valerie Fletcher, in 1957.
A quarter of a century earlier, he wrote this ditty for the Criterion, a journal he edited:
How unpleasant to meet Mr. Eliot
With his features of clerical cut.
And his brow so grim
And his mouth so prim
And his conversation, so nicely
Restricted to What Precisely
And If and Perhaps and But . . .
How unpleasant to meet Mr. Eliot!
(Whether his mouth be open or shut.)
That was in 1933, the year after he had separated from his first wife, Vivien Haigh-Wood Eliot. Their relationship has been a subject of interest and research for decades, and even inspired a play and a movie, Tom and Viv.
Now, because of the opening of a cache of over one thousand letters written by Eliot and under seal for fifty years, and with the centenary of The Waste Land in 2022, Eliot's relationships with other women are going to get much attention, with a quartet of books scheduled for publication.
The book most important to Eliot scholarship will undoubtedly be the one by Lyndall Gordon, who has been a renowned biographer of Eliot for four decades. Eliot Among the Women will be published by Virago in 2022. It will focus on his relationship with Emily Hale, whose treasure trove of Eliot correspondence will at last, after fifty years' sequestration, be open to scholars in 2020.
Gordon talked about "Eliot's Women" last summer at the T. S. Eliot Summer School hosted by the University of London. We were on a day trip to Burnt Norton, an estate in the Cotswolds that is the setting for one of Eliot's Four Quartets.
We stood around the poem's dry pools ("Dry the pool, dry concrete, brown edged") in dappled sunlight and listened to a recording of Eliot's reading Burnt Norton, a magical experience, and then went to a tent to hear a lecture by Lyndall Gordon on "Eliot's Women." She talked about four women: Vivien Eliot, Emily Hale, Mary Trevelyan, and, briefly, Valerie Eliot. See photo above, and more from the trip to Burnt Norton are posted here.
According to press about Gordon's forthcoming book, we may also learn more read about Eliot's mother and about Virginia Woolf. It was clear to me as a young woman working on Eliot's letters with Valerie that he was a man with troubled feelings about women, and I connected it with his domineering and frustrated mother, and with the fact he had four much older sisters. But Lyndall Gordon will provide much more clarity, I'm sure: her writing about Eliot and Emily Hale in T. S. Eliot: An Imperfect Life is the most complete discussion I've seen of that relationship.
The Emily Hale letters open at Princeton on 2 January 2020, and here's the background story on the library's blog.
I have read different accounts of the rupture between Eliot and Emily Hale, and of that between Eliot and Mary Trevelyan, the bossy, well-connected Mary Trevelyan who was one of his closest friends during the decade or so before his second marriage. The general view seems to be that neither woman recovered from the shock of his marrying his young secretary. It is also clear that Eliot cut off communications with both of these friends after marrying Valerie.
During those years of friendship, Trevelyan attended church with Eliot and would turn up at Fabers in her sporty car to "buzz TSE round. She looked like a horse's godmother, but they were very good friends." Mary suggested marriage to her dear friend Tom on at least two occasions. He demurred, but their friendship seemed unaffected. This makes the rupture when he married Valerie a mystery, so it's good news that another book will tell Mary Trevelyan's story.
The book is not, I understand, The Pope of Russell Square, a memoir by Trevelyan herself, which was then edited as a PhD project by Ian Smith. That publication is still listed on Amazon, but it was cancelled long ago because of competing interests between the editor, the Trevelyan heirs, and the Eliot estate.
But at last they have been able to agree on a book that will be published. The author is Erica Wagner, who was a judge of the Man Booker Prize and literary editor of The Times. The book has the approval of the Eliot estate and will be published by Faber and Faber. The fact that Wagner has written about Sylvia Plath and Ted Hughes is a plus, though one has to acknowledge that Ariel's Gift was also published by Faber and Faber, the firm that publishes both Hughes and Eliot.
Vivien, the Viv of Tom and Viv, is not forgotten. Another book that will be published by Faber and Faber is a "full anthology-account of Vivien's writings: and was commissioned by the Eliot estate." The manuscript by Ann Pasternak Slater has been delivered, and I'm told that it will be published in early 2020. Slater is the wife of Craig Raine, who was one of the executors of second wife Valerie's estate, and published this critical review of Carole Seymour-Jones's biography of Vivien Eliot, Painted Shadow, in Arete, the literary journal edited by Craig Raine. (I admit this all sounds rather incestuous!)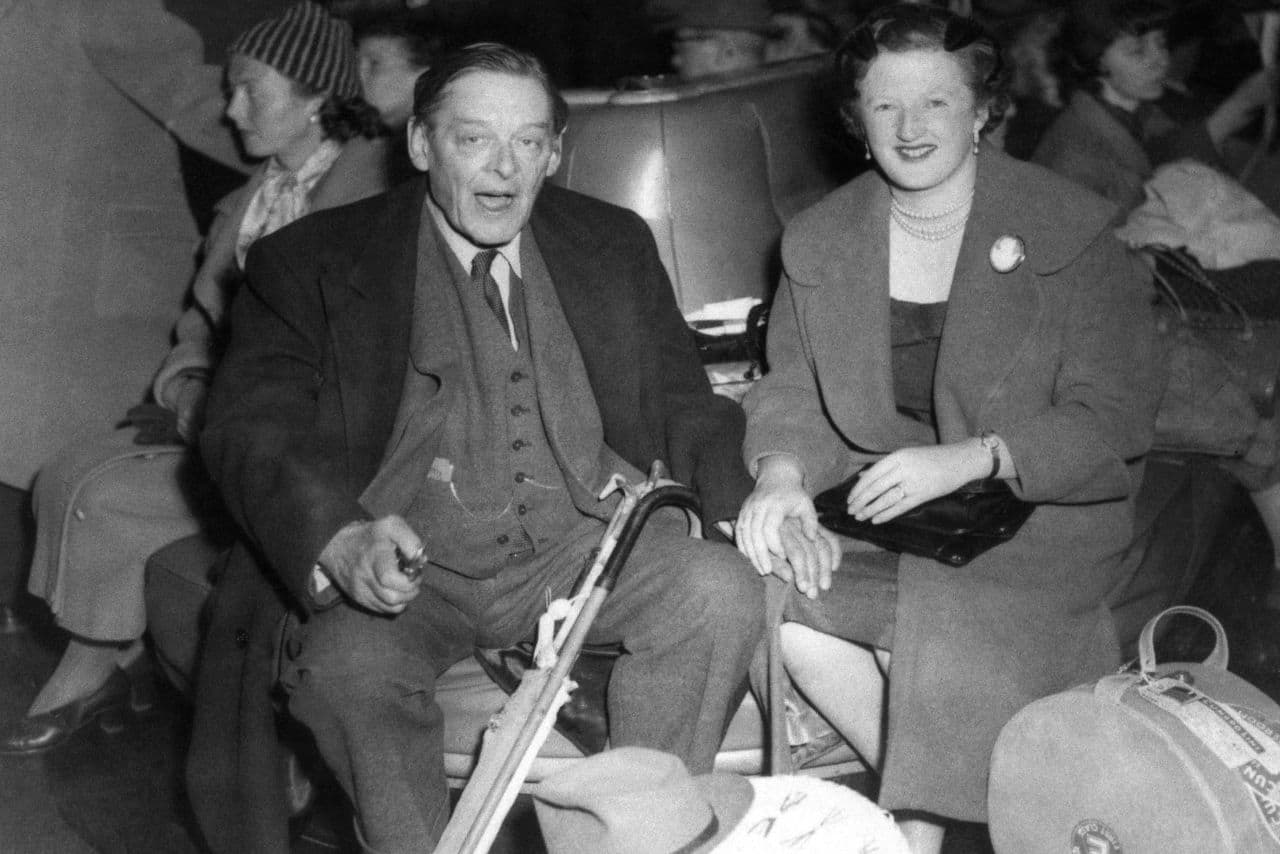 Finally, there is Valerie Fletcher Eliot, the young secretary who married Eliot when she was thirty. After eight years of marriage, she spent nearly fifty years as widow, editor, and guardian of the flame. It is Valerie whom I knew and am writing about. My memoir about working with her was published in the Guardian Review in 2005 with the title "Dear Mrs. Eliot."  The introduction to The Letters of T. S. Eliot Volume 5: 1930-1931 explains at length Valerie's efforts to gather her late husband's letters and the work she did during her nearly fifty years of widowhood.